'Love Letters From Heaven' Mediumship Show
Sunshine Coast
with Debbie Bozicevic-Mewes 
Friday 1st May 2015
arrive at 6:30pm for a 7pm show
Click here to get your tickets……………………..
 Debbie\'s interview on Spirit to Spirit communication 
Listen to Debbie being interviewed by Natalie Hennessey from Spirited Womens Movement on blog talk radio.
Psychic, Spiritual Medium, Author Debbie Bozicevic-Mewes
Univers-All Goddess ™ – Debbie Bozicevic-Mewes
Author, International Psychic & Spiritual Medium, Retreat and Workshop facilitator, Constant Creator, Lover of Life, & Mum.
Debbie has worked professionally as a psychic and medium for over 18 years and her client base stretches across the globe.
Known for her amazing accuracy, & her ability to connect with your loved ones in the Spirit World, she has a gentle, warm, & funny delivery on stage that captivates her audience.
Debbie has a passion for teaching and watching the abilities in others unfold under her gentle guidance as she inspires and imparts her knowledge freely and regularly conducts various retreats and workshops.
Debbie's private one on one sessions leave her clients with a new paradigm and inspired confidence in their own direction, also the knowledge that their loved ones are still around them and still involved in their lives.
Recently Debbie was one of the top 5 finalists for the project 200 awards for women who inspire, impact and influence others.  Debbie is also the author of top selling autobiography "The Reluctant Psychic".
Debbie is an internationally acclaimed medium, who has had the privilidge of training with some of the best in the business.  Tony Stockwell, Lisa Williams, Lynne Probert, Mavis Pitilla, and is currently a privatly mentored student of the great Mavis Pitilla.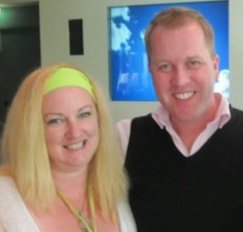 Debbie with Tony Stockwell
Debbie with Lisa Williams
Welcome to the site for nationally and internationally acclaimed psychic & spiritual medium Debbie Bozicevic-Mewes.
Author of
click here to purchase a signed copy of "The Reluctant Psychic"
Do you believe that life continues after physical death?  Do you believe that some have the ability to tune into your energy and see clearly those things that have happened and the potential you have for the future?  Are you looking for some help and guidence with your own development of abilities both in the psychic and mediumship areas?  Then you may well find the answers you are looking for within the pages of this web site!
Debbie has been working professionally in this field for over 15 years, & her clients span across the world.  Debbie believes in the 'Human Spirit' seeing the spirit within you and helping you to express and live your purpose in life, and the human spirit residing on the other side with the wisdom and guidence and proof of the souls survival they can provide to us!
In these pages you will find
Psychic Development and Mediumship workshops and courses run by Debbie.
Weekend Retreats
Opportunities for private readings with Debbie in person and by phone
Debbie's blog on the life of a psychic medium
Events
Testimonials
Opportunitiy to purchase Debbie's book and Crystal Essence products
We hope you enjoy your time with us and look forward to creating a nice connection and friendship with you.
…………………….Love Debbie and 'Team Goddess' XXXX
Due to the fact that Debbie's readings book up well in advance and the fact that Debbie is a busy Mum with two teenage girls and two stepchildren, occasionally due to the nature of a busy family your appointment may have to be re-scheduled, We will endevour to always find another suitable time for your appointment and if this cannot be achieved, and you have paid for the reading or paid a deposit we will refund this amout to you……….Team Goddess.